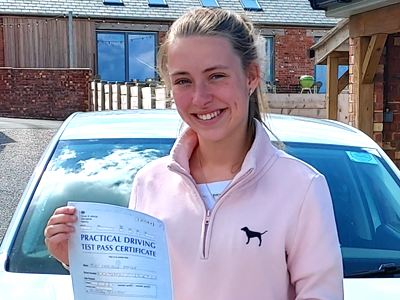 Libby Baxter
First Time Pass
First time pass with only one minor fault. Libby completed a semi intensive driving course in December and due to the Covid lockdown was unable to take her test in January. It was worth the wait although as she passed first time with only one minor driving fault. "Louise has been an amazing driving instructor. She is always encouraging and has massively helped me to get my first time pass. I would highly recommend her to anyone learning to drive."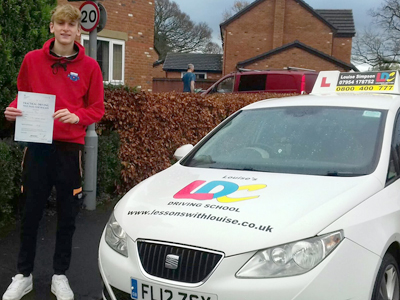 Alex Law
Passed 1st Time with only 1 minor driving fault!
Louise was more than anything very supportive! Not only was she very helpful at the start of my driving experience but on test day she was exactly what any young nervous learner would need. From learning the basics of clutch control to reverse parking Louise was knowledgable and made sure I had all the skills I needed. I always felt safe during my lessons which at the beginning was very reassuring. During the Covid-19 lockdowns Louise gave me support for my theory. I would definitely recommend Louise as she has been a great instructor! Not only did I PASS FIRST time but I must give credit to Louise for being so supportive! "Congratulations Alex and thank you for your kind words. You did all the hard work and really deserve your pass with only 1 minor driving fault."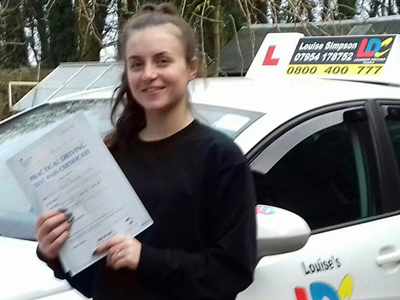 Eleanor Miller
Passed 1st Time
Extremely helpful and kind instructor. Louise was very good at getting me to reflect on each lesson and recognise what was going well and what needed improving. The LDC workbook was useful with lots of interactive information. I thoroughly enjoyed my lessons with Louise and was so pleased to have passed 1st time. Thank you! "Well done Eleanor you really deserved your pass today after being cancelled last month due to the lock down! I look forward to seeing you out on the road!"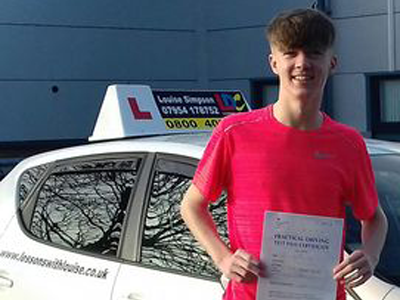 Owen Pye
Passed 1st time
Louise was very supportive and helpful throughout my time learning to drive. She gave me the confidence I needed to practice and improve my driving skills each week. The LDC workbook helped me plan and prepare for my lessons each week. "Congratulations Owen you really deserve your pass today with only 2 minors. The current covid restrictions have had a huge impact on everyone but you have got there in the end!"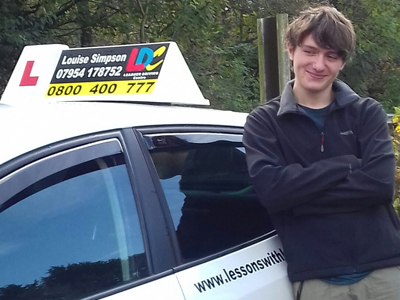 Billy Hough
First time pass with only 1 driving fault!
Louise provided a calm and safe learning environment which allowed me to advance quickly and well. Throughout the recent COVID restrictions she supported me, allowing me to keep up the skills required to pass my test. The LDC workbook helped me prepare, organise and consolidate my learning. The hazard perception videos/tests helped me massively in passing the theory test along with the questions, helping me understand other real life hazards.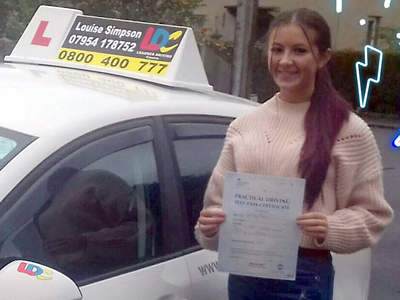 Leah Walling
Passed first time!
I passed my test on the 12th October. I couldn't of done it without Louise, she was really supportive and really patient with me. When I first started my driving lessons I didn't know anything about driving and Louise taught me step by step so that I had the skills and confidence to pass my test first time. I really recommend Louise for driving lessons. Well done Leah you really deserved to pass as you worked really had using the LDC system to build your skills and knowledge required to pass first time. Enjoy a life time of safe driving.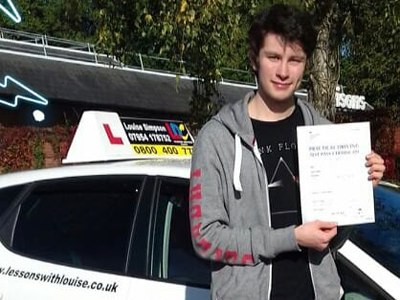 Jake Hall
A well deserved Pass for Jake!
A huge well done to Jake for passing his driving test today! It was worth the long wait, due to the COVID 19 lock down! "I am very very happy to have passed my driving test today. I enjoyed my lessons with Louise and it's thanks to her that I've passed!"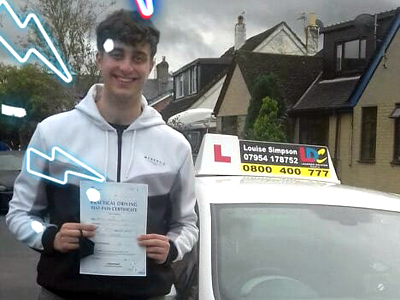 Matthew Cocks
Passed with only 2 driving faults!
"I found the student-centred LD system and resources very useful. My instructor, Louise Simpson, was great, very patient and understanding and taught in a manner that helped me understand everything well. The videos helped me to prepare very well for each lesson and showed good detail on how to do things. All in all everything was very good for me and ensured me passing." Congratulations Matthew! A well deserved pass after a bit of a wait due to the COVID 19 lock down situation! Enjoy your new car and good luck with your new job! Safe driving!
Abigail Smit
Passed First Time!
"I really enjoyed my lessons with Louise and loved the LDC System. I always felt prepared for the lesson and got help to improve each week. The videos help you feel more prepared for each lesson, as you know what you will be covering. I would definitely recommend using the LDC System and Louise Simpson while learning to drive". Huge congratulations go to Abi who used the LDC System to get the maximum out of her lessons each week and go on to successfully pass both her theory and practical tests first time!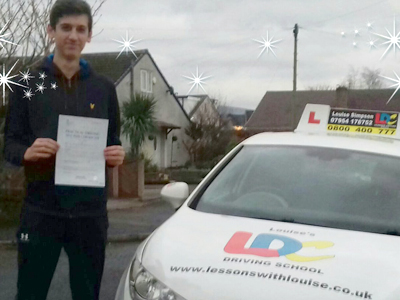 Jamie Zanzerella
Passed with only 23hrs of Tuition!
Louise is a very good Instructor. she was understanding and calm all of the time. She made instructions easy to follow and simple to execute. The LDC workbook was very informative and easy to follow as we're the videos. Well done Jamie you used the LDC system to support your in car learning and really deserve passing today!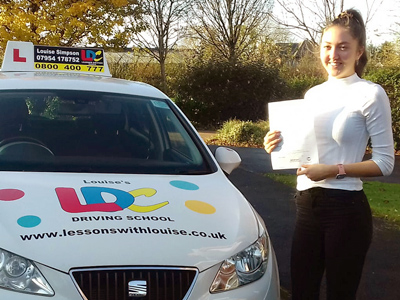 Freya Monks
Passed in Preston
"The LDC system was very good and especially helpful when revising for my theory test. The videos were helpful before lessons. The workbook was good for reflection and remembering what to improve on. Louise was good at giving constructive feedback and preparing you for your test." I am so pleased that Freya has passed her driving test today. She has used the LDC system to set her own goals in each lesson and it has supported her becoming a safe confident driving. Congratulations and very well done Freya!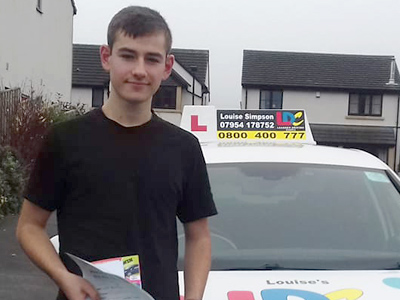 Oliver Bonser
First time Pass with Zero Driving Faults
"Having passed first time with zero faults I can whole heartedly recommend Louise. Great lesson structures, well explained feedback and lots of encouragement." I am so proud of Olly for passing both theory and practical tests first time with zero driving faults for his practical test and some lovely feedback from the Examiner. Well done Olly enjoy your new found freedom!
Alice Nickson
First time Pass
"My Instructor was great. I liked how I learnt all the basics first as it made me feel more confident once we started busier areas. I liked the learning methods which were used to help me pass both my theory and practical driving tests first time." Congratulations and a very well done to Alice who had an almost perfect drive during her practical test. Alice worked hard, setting her own goals during her lessons and using the LDC system to successfully pass her driving test first time.
Russell Eslea
Passed 1st Time
My instructor Louise was very friendly, helpful and always patient with me when I made any mistakes. I couldn't have asked for anyone better. The LDC hub, workbook and mock tests were super helpful in helping me pass both my theory and practical tests first time.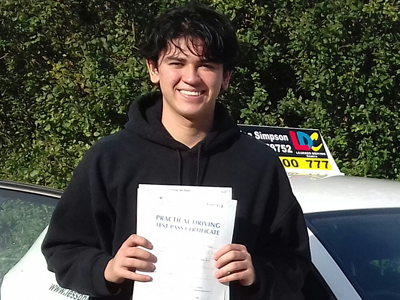 Louis Kauijo-Flanagan
First time pass in Preston
Great LDC workbook for monitoring and preparing for lessons. Patient and amazing listening from Louise. Excellent advice on how to improve on my faults. Great preparation for the test, no surprises as well prepared by Louise.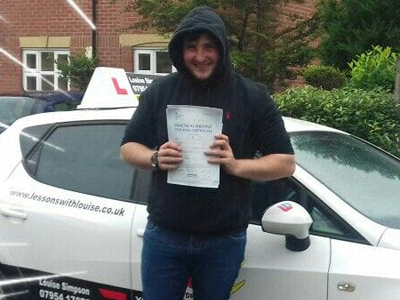 Jordan Davies
First time pass in Preston with compliments for Drive from Examiner!
Louise is honestly the best instructor I've ever had. Calm, understanding and makes you feel at ease behind the wheel. Helps to help you understand your mistakes and helps you to rectify them all while building your confidence.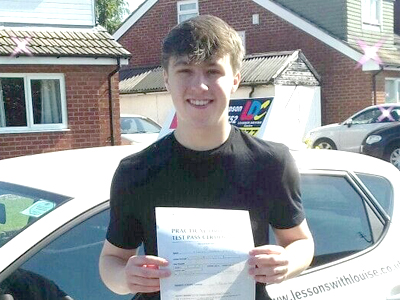 Dan Hulme
Passed in Preston
I've been driving with Louise since mid December last year and throughout my time with her she has helped me to develop my skills to enable me to have the confidence to pass. Louise has brought me out of my shell and turned me into a confident driver. Thank you.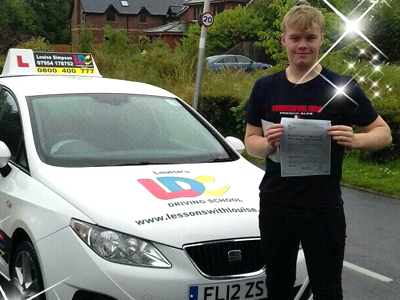 Ben Craven
First time pass with only 20hrs lessons using the LDC method
My instructor Louise Simpson was very helpful and with each lesson I learnt many new things and had good fun while doing so. The learning method associated with LDC was very helpful and I felt it boosted my learning.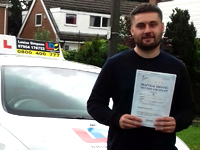 Rhys Lisle
Louise gave me the confidence to pass 1st time
Couldn't have asked for more from my instructor. Louise got me from a basic level of driving to a level whereby I was ready for my test in a very short period of time. Louise corrected my errors efficiently and most importantly gave me the confidence to pass. Thank you very much Louise for all your help resulting in a first time pass.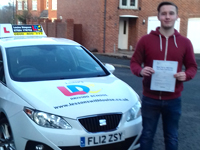 Josh Bromley
Passed with 2 minors
Louise is a fantastic instructor, who is very supportive whilst learning to drive. She makes lessons relaxed while also providing clear and conscientious instructions. Her lessons are enjoyable and informative and learner development is well balanced. I'd recommend her to all levels of learner driver and wish her all the best.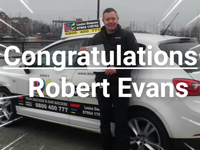 Robert Evans
Passed!
Fantastic instructor, very patient, professional, willing to go the extra mile. So glad I chose Louise from LDC as my instructor, would be happy to recommend to anyone. Excellent supportive LDC workshop materials.